President of Korea meets Competitors ahead of WorldSkills Competition 2022 Special Edition
More than 50 Korean Competitors will showcase their talents on the international stage in a total of 46 skills.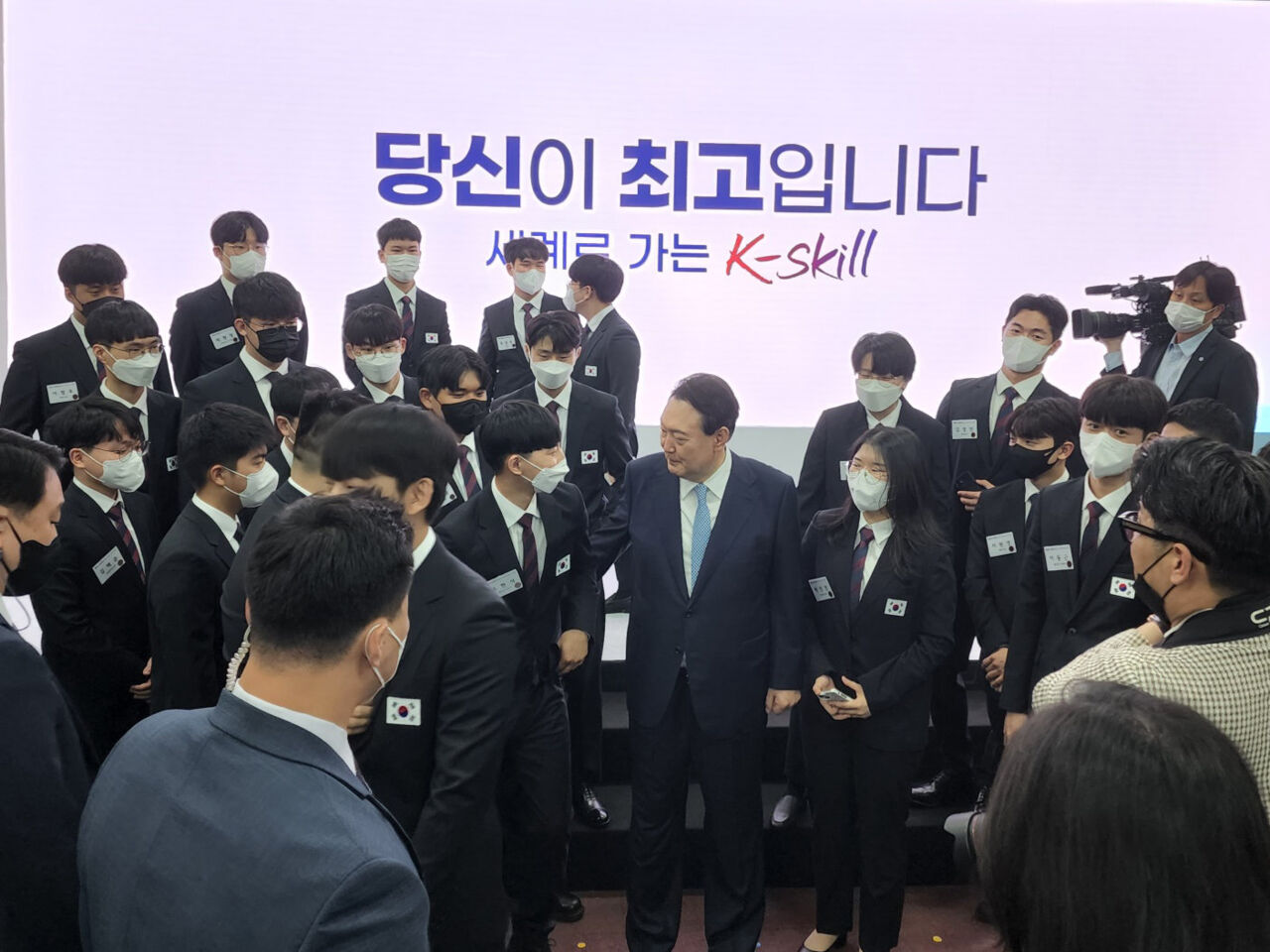 The President of Korea, Yoon Seok-yeol, personally encouraged his country's Competitors during a recent visit to the Global Institute for Transferring Skills (GIFTS) in Incheon. Fifty young professionals from Korea are in the final stage of training ahead of WorldSkills Competition 2022 Special Edition.
Korea has already kicked off its medal count in the Competition, with Prototype Modelling Competitor Chanhui Lee winning bronze in Bern, Switzerland.
Before meeting the skilled young people on 14 September 2022, the President toured the centre and experienced first-hand the training process for some of the 45 skills in which Korea is still to compete in, including Cabinetmaking, Mobile Applications Development, and Optoelectronic Technology.
It has been over 30 years since a figure such as the President visited training sites and met Competitors ahead of the international championship. During their meeting, President Yoon talked to Competitors, discussing ideas to improve their training environment.
President Yoon said: "I hope that all Competitors will get good results in this Competition. I will do my best to nurture technical talents as skills are the driving force for Korea's development and the key to future leaps."
The Global Institute for Transferring Skills is an affiliated organization of Human Resource Development Service of Korea (HRD Korea), focusing on international cooperation and skills promotion. In 2018, WorldSkills International and GIFTS established the first WorldSkills Capacity Building Centre to support global skills development, especially in developing countries.
WorldSkills Korea is hosting eight skill competitions of WorldSkills Competition 2022 Special Edition from 9–18 October at KINTEX in Ilsan, Goyang. As a long-standing Member of WorldSkills, this will be the third time for the country to host an international Competition after WorldSkills Seoul 2001 and WorldSkills Busan 1978.
WorldSkills Competition 2022 Special Edition is the official replacement for WorldSkills Shanghai 2022, cancelled in May due to the pandemic. Thanks to the commitment of WorldSkills Partners and Members, 62 skill competitions will be hosted in 29 events, in 26 cities, in 15 countries and regions between 7 September and 26 November 2022. More than 1,000 Competitors will compete, representing 57 countries and regions.
WorldSkills Competition 2022 Special Edition
Find out more