WorldSkills Competition 2022 Special Edition – 1,000 Competitors in 15 countries and regions
Sixty-two skill competitions will be hosted across 15 countries and regions, at locations ranging from national championships and industry expos to world-class industry and educational training institutions.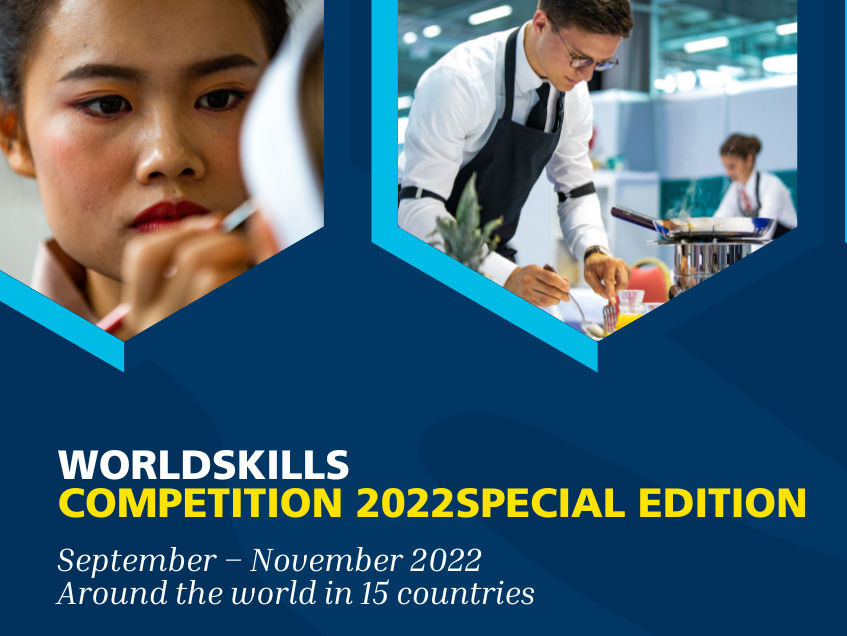 Switzerland is preparing to host the first skill competition of WorldSkills Competition 2022 Special Edition in Bern, as the WorldSkills global network works together to host an event that is the first of its kind.
WorldSkills Competition 2022 Special Edition will begin on 7 September with Prototype Modelling as part of SwissSkills 2022, the biggest national championship in the history of Switzerland.
Following the cancellation of WorldSkills Shanghai 2022 due to the pandemic, the German-speaking countries of Austria, Germany, Italy, Liechtenstein, Luxembourg, and Switzerland, put forward a proposal to host a decentralized competition.
"After the cancellation of WSC2022, we had a brief moment of shock, and with our German-speaking colleagues, we were wondering what to do to make sure young talent, who had been training for a while, have the opportunity to showcase their skills at the global level," said Johannes Fraiss, WorldSkills Official Delegate for Austria.
Together, these Members will host 33 of the 62 skill competitions, either by clustering them with national competitions and industry fairs, or holding them at state-of-the-art training institutions.
"Our system of industry federations are responsible for the education system of their respective skill, and also organizing national skill competitions. So, we asked them to support the Special Edition and they were responsible to find the locations," explains André Burri, WorldSkills Official Delegate for SwissSkills.
"Some said they could do it at a training institution and use existing infrastructure, like Jewellery in Geneva, or Electronics in Bern. Then we had the opportunity for Cabinetmaking, Carpentry, and Joinery to join the competition along with Holz 2022, a big industry fair, and the same for Cooking and Restaurant Service, as all sector leaders will be present there."
The first competition in Switzerland will be followed next by three skill competitions in Stuttgart, Germany from 4 to 7 October - Mechatronics, Industry 4.0 and Water Technology. These competitions are taking place at MOTEK, the international trade fair for automation in production and assembly.
Germany will host a total of nine skill competitions in six different cities, from Automotive Technology to Industry 4.0, one of the new official skills making its debut.
"We are very grateful to get tremendous support from our government for this approach. Further, the network of educational institutions and the partnerships with industry and sector-partners is very active. There are so many helping hands and partners supporting this idea," said Hubert Romer, Official Delegate for WorldSkills Germany.
In Austria, the Special Edition skill competitions will take place alongside the country's major career fair, BIM BerufsInfo-Messe. For more than ten years, SkillsAustria has been organizing the state championship which takes place every two years in November in Salzburg. This year, the fair expects over 30,000 visitors.
"It's the perfect combination. Young people coming to a career fair where they don't only get information on trades but they also have the opportunity to see those trades on a real-life stage. It's a bilateral benefit," says Stefan Praschl, WorldSkills Board member for Competitions.
Salzburg will host seven skill competitions, including Bricklaying, Concrete Construction Work, and Electrical Installations, that are in especially high demand within the Austrian economy.
"The building sector is running very well in Austria at the moment, and they are in desperate need of young people to take up those skills. This is one of the reasons that we decided to host them," said Johannes Fraiss, WorldSkills Official Delegate from Austria.
For SkillsAustria, the WorldSkills Competition 2022 Special Edition opened the opportunity to host the world championship in the country for the first time since 1983. "Times were different then, WorldSkills has become so big that it had become very difficult for Austria to host such a large event. Hosting part of it gave us the opportunity to contribute our share," adds Mr Fraiss.
Overall, all Hosts, Partners, and participating Member countries and regions, share the same goal: to provide every young Competitor with the chance to compete in an equal environment and showcase their skills on the global stage.
WorldSkills Competition 2022 Special Edition is the official replacement for WorldSkills Shanghai 2022, cancelled in May due to the pandemic. Thanks to the commitment of WorldSkills Partners and Members, 62 skill competitions will be hosted in 29 events, in 26 cities, in 15 countries and regions between 7 September and 26 November 2022. More than 1,000 Competitors will compete, representing 57 countries and regions.
WorldSkills Competition 2022 Special Edition
Find out more