Eco-effective car painters receive Sustainable Practice Award in Denmark
WorldSkills Denmark hosted Car Painting in Silkeborg from 18 to 21 October, where the Sustainable Practice Award was presented by WorldSkills Global Partner Glasurit alongside the competition.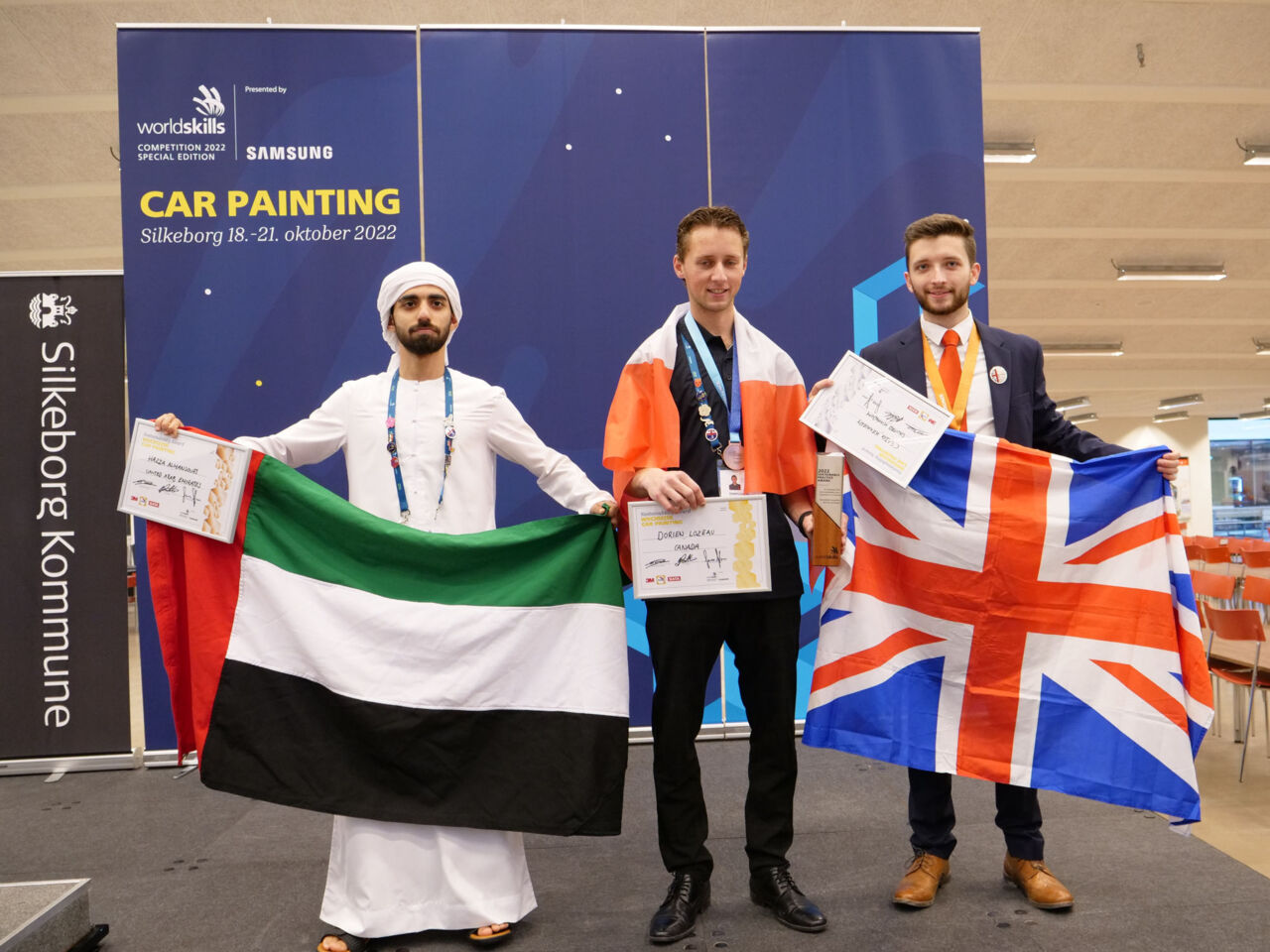 At Car Painting in Silkeborg, Denmark, more than medals were awarded. The Closing Ceremony saw the three most eco-effective Competitors receive the Sustainable Practice Award.
The Award is part of a broader strategy to raise awareness about sustainable development in materials, health and safety, education, competition growth, waste reduction, and environmental responsibility. Competitors must demonstrate excellence in selecting the right products, reducing waste, and reusing materials to create ecological awareness and economic success. The award is given to the Competitors who achieve the best mark consuming the fewest materials, water, and energy.
The Sustainable Practice Award was presented by WorldSkills Global Partner Glasurit, with the support of SATA and 3M. Dorien Lozeau from Canada achieved first place, followed by Craig Kennedy from the United Kingdom, and Hazza Almansouri from the United Arab Emirates.
Roar Solberg, Vice President BASF Automotive Refinish Coatings Solutions Europe Middle East, and Africa, expressed the company's pride in being part of the 46th WorldSkills Competition and helping passionate young talent realize their professional ambition.
"We witnessed how mindful and skilled these young painters were, especially when considering the outstanding quality they produced while finding efficiencies for materials, water, and energy savings in the painting process. Our training programs ensure young painters can deliver outstanding results in the most sustainable way. The industry is working toward reducing emissions, protecting the environment, using fewer resources, and managing waste," said Solberg.
A set of tailored webinars were made available to all Competitors and Experts using refinish products, processes, and colour retrieval solutions from Glasurit, BASF's premium refinish brand. The finalists were trained in a hybrid format using Glasurit trainers in their countries with all product and process information available on Glasurit know-how, an extensive refinish information platform offering e-books, and video training.
Competitor Dorien Lozeau, winner of the award, received a WorldSkills Competition 2022 Special Edition-themed paint gun by SATA with his name engraved on it.
"This spray gun is something extremely special, a unique item which cannot be purchased, and it reflects how important sustainability is for SATA and we want to honour the achievement to combine sustainability with excellence in the competition," said Joern Stoever, Export Sales Manager, SATA.
Hosted by WorldSkills Denmark, Car Painting was held at College 360, the largest general and vocational educational institution in Silkeborg, Denmark.
"We were very proud to have the most skilled young car painters in the world here with us in Silkeborg and having witnessed their spirit and sheer determination has set an example for us all," said Simon Neergaard-Holm, CEO, WorldSkills Denmark.
"For all our finalists and especially the winners, WorldSkills Denmark celebrates their achievements and enthusiasm representing an outstanding generation of young painters for the industry," he added.
WorldSkills Competition 2022 Special Edition
Find out more